NAOSSOFT is a global information technology and business consulting company. We specialize in AI, custom software development, social media marketing, video production, web hosting, mobile apps, IT, aviation, and business consulting. NAOSSOFT empowers organizations to achieve their enterprise goals by accelerating prototyping and deployment strategies, which rely on our in-depth knowledge of IT systems. At NAOSSOFT, we think big. We thrive on the impossible, embrace the insurmountable, and defy expectations at every turn. Experience matters here!

We are the symbol of advancement and innovation in Information Technology. Using the latest technologies, NAOSSOFT will manage your project from conceptualization to creation. However, getting to know your business is a key part of our process—it lets us tailor our system designs to meet your unique business requirements. You'll have full control of your project, without having to shoulder the burden of the strategies.

40
+
COMBINED YEARS OF EXPERIENCE
Where We Are
Address: 66 West Flagler Street – Suite 900 – #2959
Miami, FL 33130
Phone: 819-563-2056
Email: [email protected]
What We've Done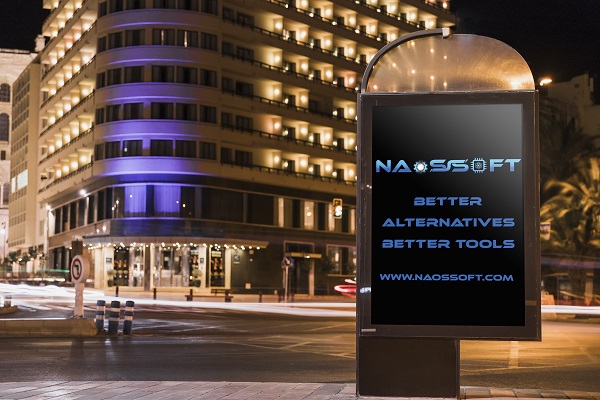 In our years in the IT industry, we have designed a number of tools and applications. We are also in the process of building innovative software to resolve a number of issues in the aviation industry, natural resources, software development and transportation. We provide customized products, individually designed for your company. With expertise and passion for technology, we find the ideal solution for your demands. Check out the companies in our portfolio that we have taken into new heights.
WHAT WE DO
What are the strategies needed to achieve the goals? This is the broad road map for the process.
We build effective, smart and simplified web, mobile, and enterprise solutions. Our teams can help you reach business goals through quick agile software development.
WHO WE ARE
After many years combating the IT establishment in order to innovate, the founder decided to take matters into his own hands. He started a journey building innovative systems that can simplify and solve the most advanced problems of today, tomorrow, and light years into the future. NAOSSOFT is an advanced and innovative technology company driven under the collective aegis of technical, visionary, and entrepreneurial leadership of its founder
Using our sense of innovation and creativity, we have mastered and implemented advanced web technology. We are uniquely positioned to provide the best responsive web technology to our present and future clients.
Search engine optimization gains

Fluid grids, flexible images and CSS styling
We serve a myriad of industries on a global stage. From startups to large enterprises, NAOSSOFT can transform your ideas into efficient mobile applications that drive results.
We've done all the heavy lifting for our previous clients, and they are now enjoying an explosion of traffic, leads, and revenue from their customers. Check out our portfolio to learn how our responsive web design, mobile app, and digital marketing solutions drive results for our clients!
Vulcan Construction Website
Client: Vulcan Construction Group / Ayodele Afolabi
Color: Black / Orange
Platform: CMS / WordPress
Year: 2019
Lincoln YinYang Yoga Website
Client: Lincoln Yin Yang Yoga / Maggie Mae Squires
Color: Black
Platform: CMS / WordPress
Year: 2019
Client: RDSAMSO / Raoul Desormes
Color: White / Green
Platform: CMS / WordPress
Year: 2019
Subscribe Today For the Latest Updates